At Satyrio Italian Restaurant and Wine Shop the excellence is not lacking.
From the awarded cuisine by Gambero Rosso to an enviable wine list created by Lady Wine to finish with the encounter with prestigious figure as Michael Palij. 
Palij is recognized as one of the 313 Master of Wine worldwide.
Of Canadian origins, he has been recognized as a Master since 1995 and is one of leading experts in Italian wines.
Moreover to giving lessons all over the world, is a consultant, writer and importer with the leading company Wine Traders in UK.
The meeting develop through the tasting of two bottles: the V.O. or Version Originale of Jacques Selosse chosen by Lady Wine and the Mazoyeres-Chambertin of Tapenau of the 2009 chosen by Palij.
The bottles reflect the uniqueness and the greatness of the meeting.
By those who tried Selosse bottle for the first time at the special tasting held with one of the Master of Wine recognized worldwide. 
Lady Wine is excited to tell the uniqueness of the meeting that, like the open bottles, testify how capacity and competence can create a unique experience.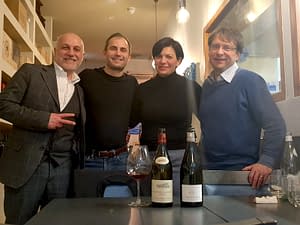 Starting from the right: Mirko Kusturin, Matteo Inama, Nadia Iacovelli and Michael Palij